R → G = Receptionist to Guest G→R = Guest to Receptionist H→М = Housekeeper to Maid
| | |
| --- | --- |
| 1 Yes, madam, all the doubles have a bath. | R → G |
| 2 Can you send up some more towels, please? | |
| 3 Some of the single rooms have a shower only. | |
| 4 There's a light switch next to the mirror, sir. | |
| 5 Yes, sir, there's always plenty of hot water. | |
| 6 Could we have some more shampoo and soap, please? | |
| 7 Make sure there's always plenty of toilet paper. | |
| 8 We keep the extra tissues in the cupboard under the washbasin. | |
| 9 There should be a bathrobe just behind the door, madam. | |
| 10 Don't forget to empty the bin every time. | |
Билет 4
Прочитайте и переведите текст
FREE-LANCERS
There are people in tourism who work for themselves. They are called free-lancers. They don't work full-time for any tourist company. They work part-time or in high season only. They don't work in low and off-season.
Among free­lancers there are guides, guides­interpreters, escorts, animators, travel writers. Tourist companies employ them seasonal work. Cruising companies, resort hotels and holiday centers employ animators for summer high season. Travel agencies which deal with in­coming tourism employ guides, guides­interpreters, escorts. Travel writers offer their articles to magazines and newspapers when they wish to. Often magazines order special articles on tourist subjects from travel writers.
Free­lancers are registered. It means that, on the one hand, they have got licences. Licences prove their qualifications and give them permission to work. On the other hand, if they are registered, they pay taxes.
Free­lancers are, as a rule, members of professional associations. In high season free-lancers earn a lot of money. In low and off­season they don't earn any money at all or do some other job.
Teachers work as free­lance guides. Students work as escorts. Actors work as animators. Travel writers are often permanent free­lancers.
2.Кратко передайте содержание текста
3. Переведите предложения, заполните пропуски в предложениях следующими словами:
Mirror, tap, extra tissues, shaver socket, bathrobe, bin, shower, soap, washbasin, towels
1 We keep __________ and toilet paper here in the cupboard.
2 The _________is on the wall next to the __________
3 The ___________is here under the ____________
4 There's a hot and cold mixer ___________ for the ____________
5 The _________ is here behind the door and the ____________are on the rack over the bath.
6 Always put plenty of ____________and shampoo here, near the taps.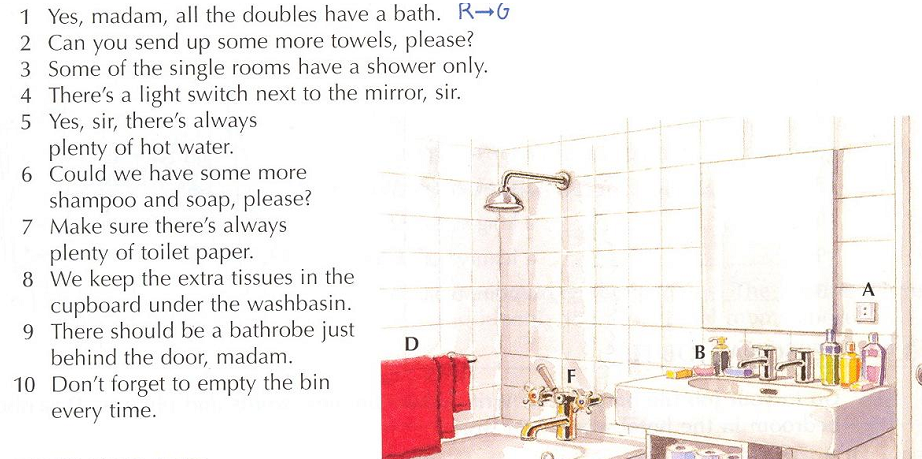 Билет 5
Прочитайте и переведите текст
LEISURE TOURISM
Leisure tourism is also called pleasure tourism or holiday tourism. It is a type of tourism when a person goes on holiday and does not travel on business. Thus, the purpose of tourism in this case is recreation.
Leisure travellers look for sun, sea and sand. They want to go sunbathing, swimming and diving. So this kind of travellers go to sea resorts or holiday camps and stay at resort hotels.
Leisure travellers enjoy organized entertainment and sport. In a resort hotel there are always swimming-pools, fitting-centers, tennis courts, discos. A resort hotel offers its customers contests, concerts, shows, animation programmes for children. Usually it offers tours and visits to different tourist attractions: local sights or amusement or theme parks.
Holiday-makers normally travel with their families and children.
There are other ways to travel for pleasure: cruising and coaching, motoring and hiking.
More and more working people will have longer paid holidays and long weekends in future. More and more people will retire at an earlier age. It means that more and more people will travel for leisure in future.
2.Кратко передайте содержание текста
Расставьте предложения в правильном порядке, чтобы получился разговор между носильщиком и гостем и переведите диалог
| | | |
| --- | --- | --- |
| | Guest | Yes, please, those two red suitcases are mine. |
| | Guest | Thank you, and here's something for you. |
| | Guest | Oh yes, please bring it as well. |
| | Porter | Can i help you with your luggage, madam? |
| | Porter | Here you are, madam, room 233. |
| | Porter | This way, please, madam, the lift is just over there. |
| | Porter | Shall i take the small green bag too? |
| | Porter | Thank you very much, madam, I hope you enjoy your stay. |
Билет 6