I like sport. I like tennis, swimming, figure skating, football, valley-ball. But my favorite sport is soccer. I buy the sports magazines and newspapers, for example: "Sport Exspress", or "World soccer". I like football in our country, because i live in Russia, but Italian series A I like more. I think that this game is very strict and thick. There are many popular football-players, for example: Paolo Maldini, Pirlo - they are playing in Milan; Konovaro is playing in Parma; Nesto is playing in Lazio; Baggio is playing in Breshia; Totti, Toldo, Ronaldo, Vieri are playing in Inter. My favorite football-player is Ronaldo. Many people don't like him, but I do.
He was born in Rio (Brazil). He hadn't any money, but he wanted to play football. When he was sixteen he started playing in "Gruzeiro", then he went to the World Cup in USA. Then he played in "Barcelona", then he went to Milan in "Inter". He was the best football-player in Europe. He is very rich now. He has a very beautiful wife and son. All people call him Fonomenon. I wish him good luck in World Cup 2002!
The most important sport event of this year is the World football championship which is held in Japan and South Korea. I'm a great football fan so I'm really upset that our teem lost the match against Belgium and Italian teem lost the match against Korea. And left the competition I agree with Onopko's words: "I still thought we could get the draw, and when Dmitri Sychev scored I believed it would happen. I really thought we would equalise." And I think that D. Sychev is hope our football: Only 18 years of age, Sychov already has eight goals to his name in the Russian Premier League. He has appeared in 12 games for Spartak Moscow. Though a regular on the under-18 national team, Sychov has three appearances and a goal under his belt for the full Russia squad.
Also My favorite Russian football-player is Valery Karpin.
Valeri Karpin is one of Russia's highest profile players. The midfielder was a star at Spartak Moscow in the early 1990s when the club won three league titles and two Cups of the Commonwealth of Independent States. Karpin moved to Spain and played for Real Sociedad and Valencia CF before settling at Celta de Vigo. He made his debut in the Russia squad in 1992 and scored a goal in his first match from the penalty spot against Mexico. He was part of the Russian team at the 1994 FIFA World Cup™.
Now, I'm supporting the Brazilian teem, because I'm convinced that they will be champions.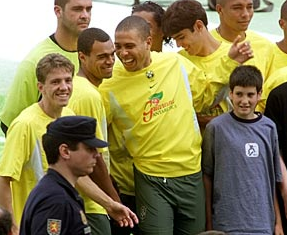 Well, I like tennis. I'm a fan of Marat Safin and Dimentieva.
I like hochey so much. I like to watch NHL games on TV.
I like figure-skating. I like special Marina Anisina and Gvendal Pesera, evgeny Plushenko and Alexei Yagudin. I like Irina Slutskaya so much.
All of them are very beautiful and talented sportsmen. I like them!
Sports are very important in our life - in my life. So we have all grounds to say that sport is one of the things that makes people kin.
LITERATURE:
1. 200 topics English languages ("BAO-press" M. 2002)
2. Conversational Topics ("Korona-print" S.P. 2001)
3. Gurina T. ( "Drofa" M. 2000)